When my grandfather died I was 8 years old and I still remember vividly the sounds of gunshots that rang out at his funeral, I remember the folded American flag given to my grandmother. My grandfather was a solider, as was my father, and his father, and his father before that. I have uncles and cousins that have also served or currently serve in our United States military. Which is why Veteran's Day is an important day to me and my family. The opportunity to honor the great men and women who sometimes have given their lives to fight for our freedoms is an opportunity that every American should cherish.
11.3% of American Veterans are black men and women and we make up 13% of Americans overall. Which means that an overwhelming number of the population of black men and women have at one time in their life served in the United States military. Black men and women have served this country in times
when our country wouldn't serve us
. For further reading on the treatment of black veterans, this is a good book
Blood Done Sign My Name: A True Story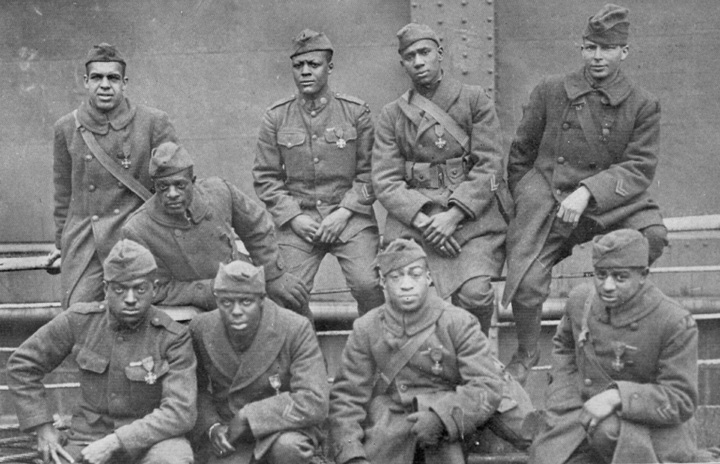 World War I Soldiers
For this reason when I see vitriol like
this
, spread on the Internet it both angers and saddens me.
Note: Because I'm a PI I found the school district that this person is in. And the school district doesn't have either holiday off. Rather for Veterans Day they had a parade to honor the veterans of their community. (Don't fuck with me fellas, this ain't my first time at the rodeo!)
.
If you ask a black veteran to choose which holiday is more important to him, I don't know if they'd be able to choose. But what I do know is that Martin Luther King Jr. is the person that challenged America to uphold the values that it claims it stands for.
I have a dream that one day this nation will rise up and live out the true meaning of its creed: "We hold these truths to be self-evident, that all men are created equal.". - Martin Luther King Jr.
Today patriotism has become a shield for bigots a banner to wave to say that they're more American than you are. Those who claim to uphold the Constitution can't even tell you what it says other than they have the right to bear arms. To quote King again,
When the architects of our republic wrote the magnificent words of the Constitution and the Declaration of Independence, they were signing a promissory note to which every American was to fall heir. This note was a promise that all men, yes, black men as well as white men, would be guaranteed the "unalienable Rights" of "Life, Liberty and the pursuit of Happiness." It is obvious today that America has defaulted on this promissory note, insofar as her citizens of color are concerned. Instead of honoring this sacred obligation, America has given the Negro people a bad check, a check which has come back marked "insufficient funds."
~ Full Speech